GRÜNE HERBSEN and Violet Princess
What comes to your mind first when you think about Hungary?
Is it surprising that for me the first thing is canned peas? I ate them secretly in childhood because they were so difficult to get back then and mother opened a can only for birthday parties to make salads. I remember the whole packaging design – a photo of nice green peas and a headline GRÜNE HERBSEN. This is part of my soviet past.
I guess I haven't eaten Hungarian peas for a twenty years now but its not a miracle to find them in local food store even today. But even today Hungary keeps on surprising with miracles. I would like to show you a couple of pictures from the book which will be printed in Hungary in June.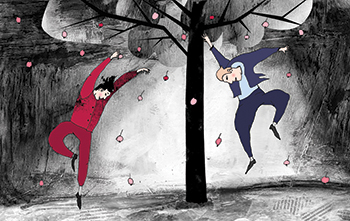 It all began when a wonderful girl named Móni Segesdi dreamed of a project where writers would write the stories and artists would illustrate them, without any state borders. So when the Estonian illustrators got the chance to choose to illustrate Hungarian writers' texts, the idea for the exhibition "Crossover Tracks" was born. It is just happened that first I read Péter Doka's fairy tale and immediately I felt the connection that this was my fairy tale also I didn't believe that someone else could write so directly into my soul – with great passion, humor, irony and wisdom.
So it was very easy to illustrate the story and submit the pictures to the exhibition. When the exhibition reached Budapest, one of the most sharp-witted editors Viktória Dian saw it and thought that my pictures should illustrate the Péter Doka's next book.
If you already know me, then you know I'm impatient. The book will be available in June, but I will show you few pictures here. I am especially proud of the dragon image, because it's my first one.